Archive for the 'Black Rose Minerals: Eyes' Category
19th January, 2012
Towards the end of last year, I went through a bit of a lucky streak. I started winning some giveaways hosted by my favourite blogs. One of them was prettymom's blog-versary and the prize – six sample jars from her favourite mineral eyeshadow brand – Black Rose Minerals.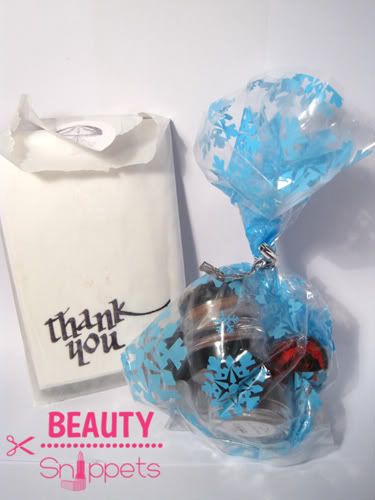 I love little indie companies like Black Rose Minerals as your purchases always arrive with a personal touch so you know it was packaged with care!
I settled on the following after browsing the website:
Vixen – rosy brown
Sideways – copper with red shimmer
Teddy – dark chocolate brown with teal shimmer
Swatches of Vixen, Sideways and Teddy in natural light, with no base
Phantom – violet with purple, blue, pink shimmer
Basilisk – moss green with silver shimmer
Miner Infraction – shimmery dark brown with copper shimmer
Swatches of Phantom, Basilisk and Miner Infraction, again swatched dry with no base
These were swatched dry – look at the pigmentation. Aside from Phantom, they glided on smoothly. Phantom seemed to just become sheer when you try to blend it.
I was given a code by Rosa from Black Rose Minerals for 15% off that's good for two uses. Now, we all know that I need more make up like I need a third leg so the first two readers to comment here will get a code for 15% off their purchase from Black Rose Minerals.