Archive for the 'Blogger Event' Category
21st December, 2011
I'm sure you have all seen the beauty sampling boxes doing the rounds in the beauty blogging world. The beauty sampler boxes have seriously exploded in the last few months here in Australia. Basically, you pay ~$14.95AUD for a monthly box of about 5 beauty samples to be sent to your house. Despite the popularity of these in Australia, none had grabbed my attention.
Beauty Basket is the brainchild of Nadia Stennett, the beauty editor of Just Be magazine. With her experience in testing and trialling beauty products sent to the magazine, subscribers are sure to receive some amazing beauty treats.
The Beauty Basket website also has how-to videos and posts, tips and even Nadia's experience with the items in the current Beauty Basket.
The great thing about Beauty Basket is that you get someone who's already *in* the industry, who's got the connections and repertoire to go up and ask these luxury brands if they would like to be a part of it. I don't know about you, but I feel much more reassured knowing this. Like, it's not just empty promises of "X is now joining our beauty sampling box!!" and then never really seeing any samples from the brand. I know of one instance where a company had actually said that they're actually NOT affiliated with a certain beauty box company…
Moving on, we were treated to a champagne breakfast and were kindly given the December 2011 Beauty Basket to try out.
Included – please note that unfortunately, it doesn't get delivered to you like this:
The basket will be rectangular and won't have handles for easy transportation:
1. Elizabeth Arden Prevage® Day Intensive Anti-Ageing Moisture Cream with Sunscreens & Anti-Ageing Night Cream (RRP: $195.00 50ml & $215.00 50ml)
2. Narcisco Rodriguez For Her Eau de Toilette (RRP: $125.00 50ml)
3. Derma-Research Infusion RX (RRP: $69.00 10ml)
4. A'Kin Kaolin Clay & Activated Carbon Express Purifying Facial Masque (RRP: $19.95 75ml)
5. Imperial Leather Foamburst in Moisture Delight (RRP: $5.99 200g)
Out of the 5 products received, 3 were full sized (#3, 4 and 5). The Elizabeth Arden creams, while not full size, are 7ml which is ample enough for about a week to 2 weeks usage in order to see any results. And the mini size was the perfume (#2).
Every month, subscribers receive not only the Beauty Basket but also a newsletter which has information about the month's featured products as well as Nadia's thoughts. I thought that this was a great touch as I've seen many of the other beauty sampler boxes just include a tiny card with a small blurb about the included product.
For more information or to subscribe check out http://www.beautybasket.com.au If you subscribe to 3 months of the Beauty Basket, you get a gift of a free 12 month subscription to Just Be magazine.
5th September, 2011
On Saturday, I was very lucky to be invited to the Revlon Top Speed fashion show along with some other bloggers.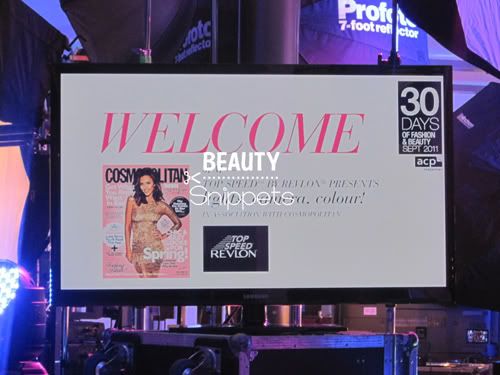 This was my first 'blogger' event so you can imagine how excited I was! When I reached the location, I was gobsmacked at the line. It was very long but luckily, we got the awesome 'VIP' treatment and got to skip the queue, thanks to Marni and Catherine from Contagious PR.
The front row was filled with bloggers and I was lucky to meet some new faces. It's really good to put faces to blogs hahaha.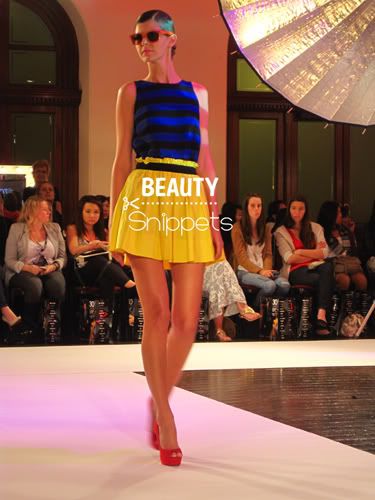 I loved the fashion show! It was engaging and professional.
Elsa Morgan was the make-up artist for the fashion show and the looks were:
(All products are Revlon) Gunmetal shade as a wash on the lid from a cream palette. Tonnes of Grow Lushious mascara. Photoready foundation with the foundation finisher to mattify. Press the multi metal onyx eyeshadow shade over the gunmetal cream shadow to intensify the colour. Bold lips – press on the lipstick shade for a matte texture.
She also said to look at your cosmetic products differently and try and have multiple functions for them. For example, I love using lipstick as blush! Or blush as eyeshadow. Elsa believes that a manicure is very important. It's the final touch. In her opinion, it's like a woman's credit card that comes flashing out at the right moment and should change and shift according to your mood and the event.
The prominent theme throughout the fashion show – the colourblocking trend! So much bright colours. And obviously the turbans! I don't know about those though. I'm so not fashionable and definitely cannot pull off those turbans without looking ridiculous!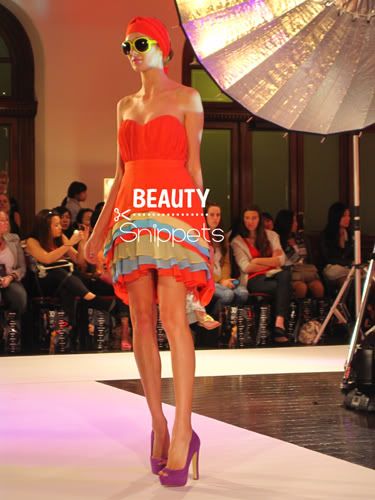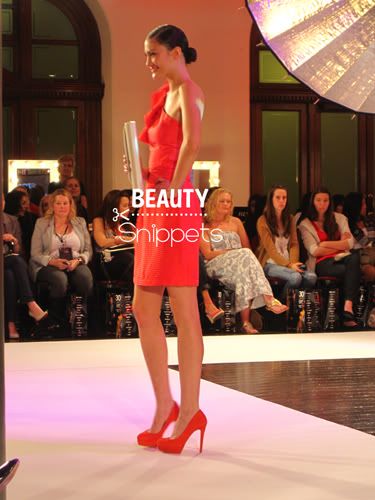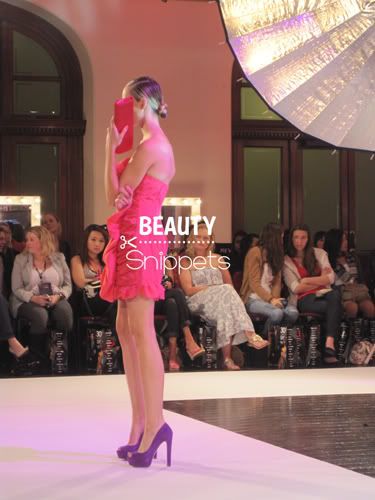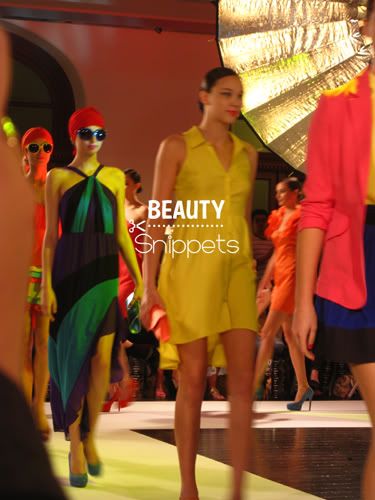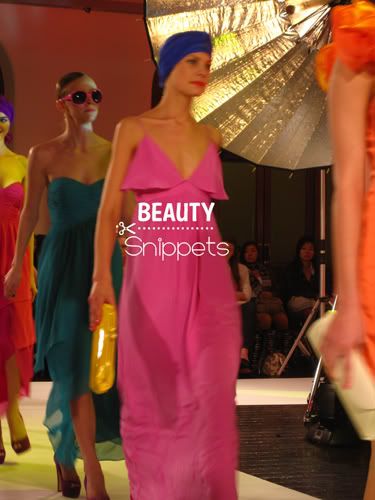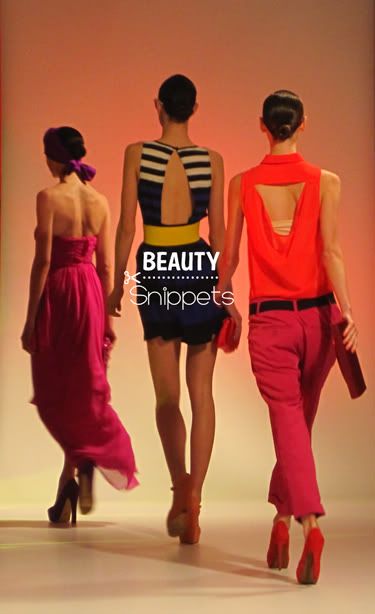 Fashion: Seduce and Dotti
Make-up by: Elsa Morgan
Shoes: Siren and Lipstik
Bags: Olga Berg
How long are their legs? They go on forever!
The Revlon Top Speed show was a part of the 30 days of fashion and beauty event which has an assortment of different events held throughout the month all over the country. Head on over and see what events tickle your fancy
We also got to see the faces of the event – Alyssa Sutherland,  Heidi Harrington-Johnson and Sarah Stephens. They are so pretty. Like, take your breath away pretty.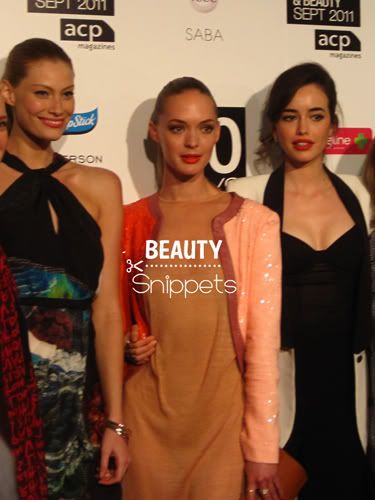 I also have a handful of swatches of the Revlon Top Speed nail enamels to post! Coming soon