Archive for the 'Chanel: Lips' Category
2nd November, 2011
Seems like once you go high-end, you don't go back!
Another new addition to my lipstick collection – this time it's Chanel Mademoiselle rouge coco lipstick. This is the shade that Ms Vanessa Paradis is wearing in the promo pictures.
Packaging
Like all rouge coco lipsticks, it's housed in the signature black and gold casing, with the white interlocking CC on the top of the lid.
Open it and you are greeted with an engraved CHANEL on the lipstick bullet.
Product
Mademoiselle is a pink-brown shade with gold shimmer. The amount of brown in it balances out the pink so the pink doesn't end up bright, frosty, bubblegummy pink. Like a grown up pink
As for the shimmer, whilst it's quite visible on the lipstick bullet, when you're actually wearing it, the shimmers turn into sheen.
As for wear time, it gave me about 3 hours until I had to apply. Unlike Gabrielle, there wasn't any staining on the lips. Additionally, being a rouge coco formula, it was lovely to apply. Everything about this is luxurious!
Purchase
These retail for $54AUD and are available at your nearest Chanel counter.
Mademoiselle is gorgeous for looking polished without being overdone.
16th June, 2011
I am sensing a very dangerous addiction coming up…
As you'll remember, my first Chanel product was the joues contraste in Rose Turbillon – gifted by my darling boyfriend. Now, I'm slowly adding onto that with this acquisition of the Gabrielle rouge coco.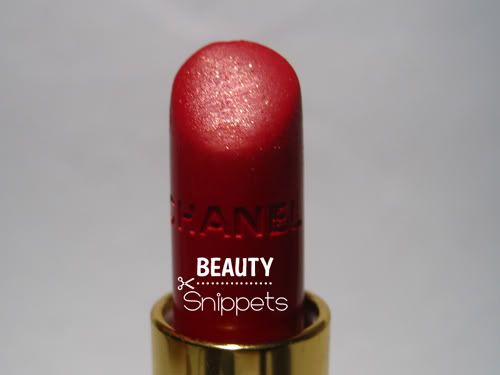 I first saw swatches of Gabrielle on Jen's blog & I thought to myself, "Must. Get. Hands. On. Gabrielle." A true, vivid red in a glossy lipstick form? Hells yes!
Like most of Chanel's cosmetics, the packaging is DIVINE. Sleek black & gold detailing with the white interlocking C's on the cap & of course the Chanel imprint on the lipstick bullet. Who can resist such a luxurious item?
The rouge coco lipsticks were released earlier this year & were designed with the intention of being: hydrating, pigmented & smooth. The rouge cocos were basically attempting to lure the lipgloss generation back to the sophistication of lipstick.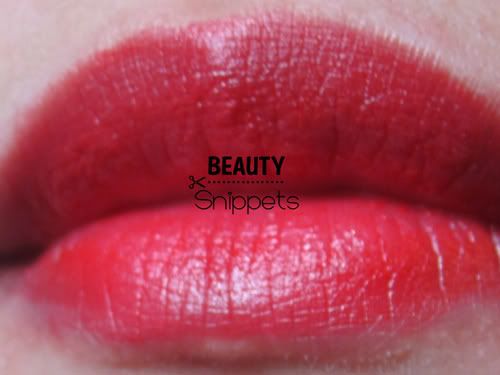 So like I said, Gabrielle is a true, vivid, ruby red. Application was AMAZING – I didn't have to pull & tug this on my lips in order to get a decent colour. The first swipe was sheer but not too sheer – the shade came out like a coral red, similar to MAC Viva Glam Cyndi lipstick. The following two swipes gave me the shade I wanted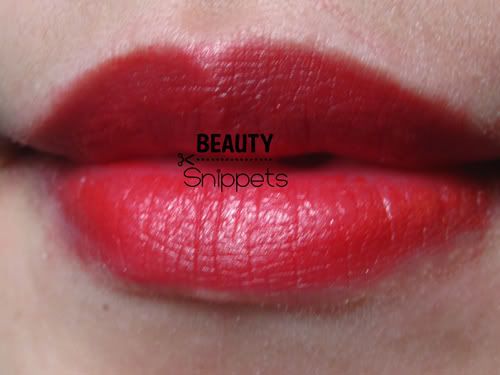 In terms of lasting power, I got three to four hours of wear with Gabrielle
After the 2nd hour, it does fade a bit but it leave a stain that you can get away without having to reapply.
Where to purchase these lipsticks of luxury…
In Australia, you can head towards your local Chanel counter in Myer or David Jones or the Chanel beauty boutique in Bondi Junction Westfield & see for yourselves just how wonderful these lipsticks are. RRP: $50aud
Alternatively, these only cost $32usd over the pond in the US. So if you've got a US friend or take advantage of those wonderful parcel forwarding companies, you can save a couple of dollars