Archive for the 'Clearasil' Category
12th January, 2012
I have been blessed with relatively good skin *knock on wood* for my whole life. I get the odd pimple here and there but nothing major. I do get hormonal breakouts on my forehead and chin every month. I have combination skin – dry around the nose and oily T-zone.
With Summer (finally!) here, my skin tends to get much more oilier than the cooler months as a result of the heat. This can cause some unsightly pimples to rear their ugly heads. Also, synonymous with Summer = minimal sleep and parties! So what have I been using for the past month or so to keep my skin clear?
The Clearasil Ultra 12-Hour Rapid Action Range
has been clinically proven to reduce pimple size and redness … in as little as 12 hours
The range includes the gel wash, cream wash and deep pore scrub. I was advised that the gel wash is suited to those with combination skin and for those with dry skin, the cream wash is best suited for you. Seeing as I have combination skin I used the gel wash and the deep pore scrub for review purposes.
However upon further reading, I discovered that the gel wash can be used as an everyday preventative measure, the cream wash on existing breakouts and the deep pore scrub as a deep cleanse – which makes sense! Hmm. Might try this out.
Packaging
Rapid Action Gel Wash ($13.99AUD/200ml) – This comes in a bottle with a flip-top lid which has a small opening. This allows for a slightly more controlled amount of gel when you're using it.
Rapid Action Deep Pore Scrub ($13.99AUD/150ml) – The Deep Pore Scrube comes in a squeeze tube which is quite the typical packaging for many face scrubs. The opening for this is a slightly bigger than the Gel Wash to allow the exfoliating beads to com through.
Product
Rapid Action Gel Wash – The contents are like a soap-y blue – kinda reminds me of detergent. I'm not good at describing smells but it's a scent that isn't too feminine nor too masculine which is great for teens to use! The gel lathers up into a clear white soapy looking wash when used.

Rapid Action Deep Pore Scrub – It's a thick face scrub with large blue exfoliating beads and smaller refined white beads. I used this every 2-3 days to unclog my pores and refine the skin. It was gentle enough on my skin but rough enough to rid my skin of dead skin and any flakies.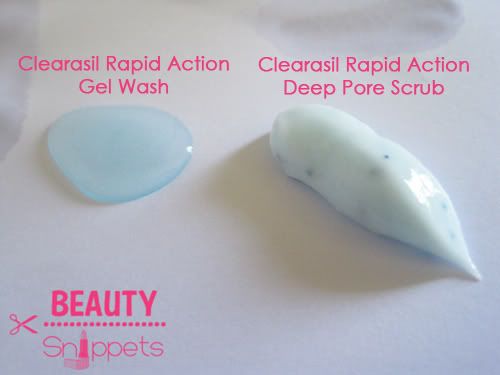 How does it live up to its claims? Well, I had a monster of a pimple about a week before my cousin's wedding and whilst it didn't go away in time (boo!), it did reduce its size and redness and it wasn't even obvious on the wedding day that I had a pimple. I did not get any hormonal breakouts for the first time in a long time. Do I recommend it? Yes! and I would definitely repurchase.
Purchase

With all 3 products priced at a budget friendly pirce of $13.99AUD, the gel wash (200ml), cream wash (175ml) and deep pore scrub (150ml) are all available at all leading Australian supermarkets, pharmacies and independent retailers.
The product/s mentioned in this post were provided by PR for consideration. Beauty Snippets' opinion remains 100% unbiased and honest. Please refer to Beauty Snippets' disclosure/PR policies page for further information.