Archive for the 'Dining' Category
27th July, 2010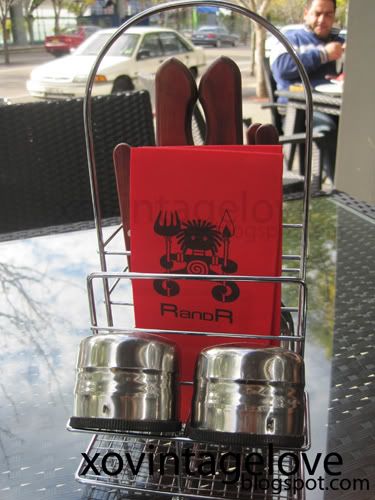 My boyfriend and I headed to Ribs and Rumps at Sydney Olympic Park on Saturday for lunch. I've heard some great things about this place so we thought, "Why not?"
We arrived at about 1.45pm on a Saturday and it wasn't packed out. There were a lot of empty tables both inside and out. We opted to sit outside as it was such nice weather!
The wait for meals wasn't long at all – average waiting time, in my opinion – about 15 minutes?
Service was ok. Not crap but not outstanding lol.
I ordered the fillet steak (280g) which came with my choice of either chips or baked potato for sides.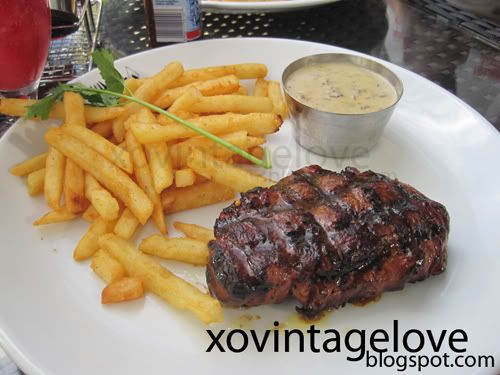 280g fillet steak with chips ($34.95) and creamy mushroom sauce ($2.95)
And my beast of a boyfriend decided to get this (cos apparently he was starving LOL):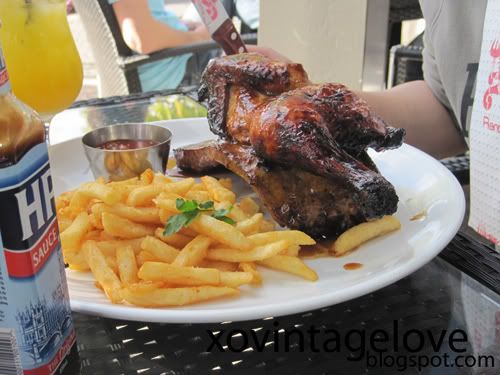 Half a chicken with pork ribs ($42.95) with tangy bbq relish ($2.95)
His tangy bbq relish tasted a lot like salsa! He probably didn't need to order the sauce cos on the table, they set down tomato sauce and HP sauce…which btw, what IS HP sauce? It tasted funky.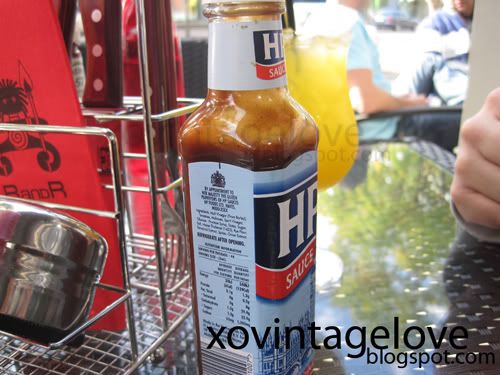 And you can't have a meal without drinks, can you? I definitely can't so we ordered these really delicious mocktails: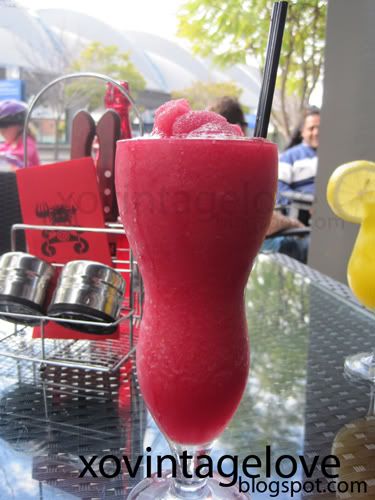 Redalicious ( a mix of watermelon, strawberries and ruby red grapefruit juice) $7.95
4th February, 2009

As many of us will soon be entering a new chapter in our lives, whether it be continuing our studies at a tertiary level or travelling (lucky bastards!), it is without a doubt, an exciting time for everyone! So what better way to catch up & talk about ourselves than dinner with your dearest friends?

Being the hungry person that I am, I arrived on time. I mean, hello?? It's food! Why would you want to be late? Anyways, despite turning up on time, the handful of us had to wait for about an hour to see if the others were gonna turn up! Everyone was STARVING by then so we ordered anyways 😀
We ate at Cafe i Viaggi which is in Stocklands. Well, not inside the shopping complex but outside it yet still within Stocklands. Crap, that was confusing. Sorry guys! Now, I'm no food critic but I do like my food (specifically Italian) 😛 The wedges and spag bol were delicious! Their pizzas however … bleh haha. I didn't really like it! Oh and their garlic bread – W.T.F? Seriously. It was on those Asian bun rolls which were so chewy and bland! I didn't get to "taste test" the rest of the food which the gang ordered so I can't offer my opinion on anything else.

Can I just say that new year's resolutions are pretty hard to keep track of, let alone achieving them all! Despite one of my resolutions being "minimal alcohol intake", I kicked off the dinner with a "West Coast cooler" – I don't know what it all means but damn, it was nice ;D