Archive for the 'Essence: Eyebrows' Category
21st December, 2011
Essence is a German brand that has some awesome products at low, low, low prices. Seriously. Most of their products retail for under $10AUD. Bargain!
My local Target has had the Essence stand for a while now and it's always well stocked.
My tiny haul seeing as Target is currently having a 25% off all cosmetics.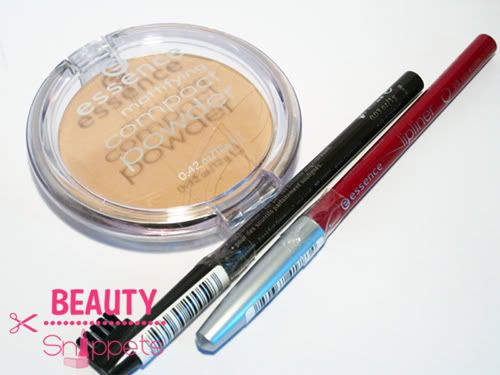 Red Blush lipliner ($1.46) – I never use lipliner but seeing as I'm beginning to love wearing red lipstick, a cheapie red lipliner should do the trick. I haven't tried it yet but I'll let you know.

Brown eyebrow designer ($2.21) – I have learnt what filling in your brows do for you. I've been using a MAC one but this actually does a better job! The lil brush on the lid does wonders blending it out. Looks natural.
Soft beige mattifying compact powder ($4.46) – I needed a mattifying powder as Summer's right around the corner and when I saw this, I grabbed it! Under $5, works good enough for me and is great as a beginner's mattifying powder lol.
Once I've had a proper chance using these, I'll definitely do a more in-depth review but for now, quick thoughts will suffice!