Archive for the 'Manicare: Tools' Category
30th March, 2016
Last week, I was lucky enough to accompany Livia as her plus one to the Manicare x Liz Kelsh makeup brushes launch at Ceru.
In between sips of champagne and bites of chicken satay sticks, I got the chance to check out the new brushes and have a play with them.
In collaboration with celebrity makeup artist, Liz Kelsh, Manicare has released 10 brushes with an affordable price tag to match – none are over $20!
The brushes launched are:
FOUNDATION BRUSH F#10 (RRP $16.95) – With a tapered finish, this allows for precise application of foundation especially around your nose and eyes. The brushes aren't stiff which really helps it get into the tiny crevices on the face.
STIPPLING BRUSH F#11 (RRP $16.95) – a great duo-fiber brush for giving you that airbrushed look. As I don't use foundation often, I love using stippling brushes when applying cream blush – it softens the look and gives a smooth, "glow from within" look.
POWDER BRUSH #F12 (RRP $15.95) – a great size for applying powder as a finishing touch.
BRONZING BRUSH #F13 (RRP $19.95) – this a dense brush which covers a large space great for bronzing your face quickly and even over the body.
CONTOURING BLUSH BRUSH F#14 (RRP $14.95) – angled with soft edges, this fits perfectly into the cheek hollows to get your contour on point. The angled brush also allows for precision blush application as well. And add to that – Liz showed us that we could flip it around and use the thinner end of the angled brush to apply highlight. Multitasking at its best!
BLENDING BRUSH E#10 (RRP $10.95) – an essential brush in any beauty arsenal, this blending brush is super soft and makes blending eyeshadow a breeze.
CONTOURING SHADOW BRUSH E#11 (RRP $11.95) – this has a slanted brush head making it easy to apply eyeshadow to your crease. As it is a bit dense, it picks up just the right amount of eyeshadow for blending.
BROW/EYE DEFINING BRUSH #E12 (RRP $10.95) – Made from synthetic fibres, this slanted brush is great for a soft look for filling in your brows. This would be a great starter brush for beginners at filling in brows. It also works well as an eyeliner brush – use a gel eyeliner for the best results.
SMUDGE BRUSH E#13 (RRP $10.95) – A great brush for a smokey eye look. It applies shadow easily to the bottom lash line for a "lived in" eyeliner look. Alternatively, I like to use this brush to smudge out eyeliner on the top lid. The brush hairs are dense so it makes smudging easy.
LASH/BROW BRUSH E#14 (RRP $10.95) – Another essential brush, in my opinion. The brow brush is great to brush those unruly brow hairs into place before filling them in and setting them with clear brow gel.No matter what mascara I use, my lashes always end up looking clumpy after application so a lash separator is always required to finish off my look.
The brushes feature lightweight handles, improved bristles, tapered ferrules and a modern design – matte black handles and silver ferrules.
Liz Kelsh used the brushes and demonstrated a 90's bronzed supermodel look. Her favourite brush is the eye blending brush. Liz believes this is a must have brush to take your eye make up to the next level. I loved the fact that Liz used the contouring blush brush for two purposes – to contour and highlight!
These brushes are ideal for those starting their brush wardrobe, or for travel. The handles are short making it easier to get closer to the mirror for any detailed eye or face work. They will be making a home in my make up bag for travel!
Available this week from 1 April 2916 at Priceline, Target and Big W stores – ch-ch-check it out gaiz.
The product/s mentioned in this post were provided by PR for consideration. Beauty Snippets' opinion remains 100% unbiased and honest. Please refer to Beauty Snippets' disclosure/PR policies page for further information.
10th December, 2012
Summer is coming and Beauty Snippets has compiled a Summer Beauty Guide to make the transition from stockings and pants to shorts and skirts easy.

This is part two of the Summer Beauty Guide – all about exfoliation.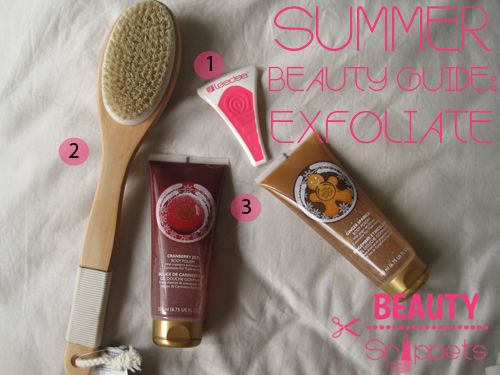 Before you start shaving and tanning, you need to prepare your skin. Here are some fab tools for exfoliating your way to smoother, sexier skin!
1. Le Edge Exfoliating Tool ($39.95AUD, for stockists visit their website le-edge.com.au)
This innovative exfoliating handheld device works to remove the build up of dead skin and dirt without you having to continuously and abrasively scrubbing your skin. It has a stainless steel edge and when held at a 45 degree angle and moving against the direction of hair growth, it gently glides over your skin whilst exfoliating.
Can you believe it does all that without the need for mitts, loofahs or scrubbing creams and gels?
This is ideal especially when travelling as it's so lightweight and consolidates a few showertime products into one.
2. Manicare Cellulite Bristle Brush ($14.95AUD, available at Priceline, Target, K-Mart, Big W and leading pharmacies)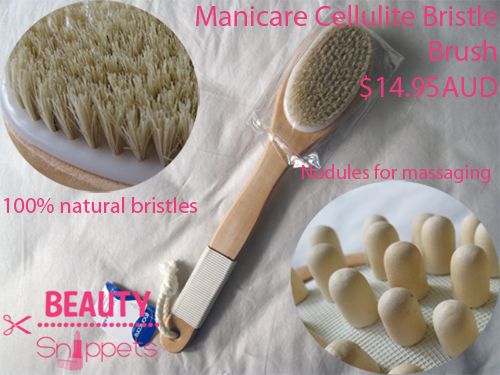 Now this may not be an 'official' exfoliating tool but it is sorta the same thing. This cellulite bristle brush by Manicare is great for dry body brushing which is one of way minimising cellulite. Dry body brushing is also a quick way to remove any dead, dry and/or dull skin. This Cellulite Bristle Brush comes with two sides – on one side, you have 100% natural bristles and on the other, nodules which are perfect for some massaging!
The bristles are not too harsh or scratchy on your skin – which is important in a dry body brushing tool.
3. The Body Shop Ginger and Cranberry body polish ($20.95AUD/200ml, available at The Body Shop stores nationally)
If you still love body exfoliators, look no further than The Body Shop. They have a wide range of body polishes in various scents. These two are from their limited edition Christmas range.
These body polishes foam up really well, and they are gentle enough to use everyday!
The body polishes smell amazing. I am not a huge fan of ginger. Absolutely hate it. But the scent in this Ginger Sparkle body polish is really nice. I can't quite put my finger on the exact scent but it sorta smells like sweet licorice! As for the Cranberry Joy body polish, it has a sweet berry scent. So lovely. Such a shame that the scent doesn't last long on your skin.
The product/s mentioned in this post were provided by PR for consideration. Beauty Snippets' opinion remains 100% unbiased and honest. Please refer to Beauty Snippets' disclosure/PR policies page for further information.