Archive for the 'Press & Go' Category
5th May, 2012
Hello hello. Today I have for you the Kiss Broadway Nails Press n Go kits – the other line. The first one was the Kiss Nail Dress (reviewed here).
Let's get started shall we…
Packaging
How cute is it? I think it's cute. Comes packaged in a pseudo-nail polish bottle. Includes 24 nails in 12 different sizes.
Open up the lid, you get…
…a prep pad (basically an alcohol wipe for you to wipe your nails down first before applying), the nails and a file.
Instructions are included..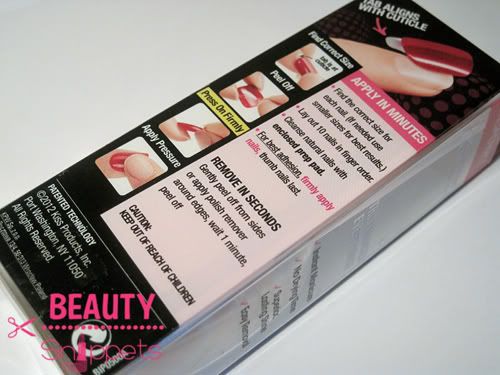 Sounds easy, right? Right!
Product
I chose to use Shout to trial as I had my cousin's upcoming wedding to go to. I matched them to my dress!
First the size matching was quick and easy. It was as simple as picking one up, compare, place aside. Move onto the next finger. Once I had all ten fingers matched up, I opened the included prep pad and cleaned my nails. Then it was simply applying the nails one by one. Remember to press them on TIGHTLY to ensure they adhere to your natural nails. Too easy. The nail file is there to file away any burr left over from the manufacturing.
Wear time – these lasted about a week. It was like having acrylic nails really but without the crazy damage to your nails. One of them just kinda fell off and I didn't want to walk around with one naked nail so I went to take them all off. I just gently peeled them off from the sides but if you want you could also apply some nail polish remover around the edges, per the instructions, and off they come.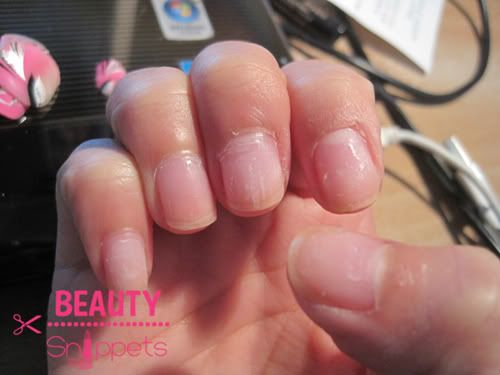 The ring finger is the one with the press n go nail that fell off – see how it has no residue? The residue was easy to remove – just use some nail polish remover.
This is seriously fool proof!They're fantastic for when you have a last minute shindig and don't have time to paint your nails and wait for them to dry. I love that these have nail art on them.
Purchase
Available in 12 different designs, there's sure to be one that'll tickle your fancy. I even managed to talk my cousin into purchasing the lace version of this
Available from Priceline and selected pharmacies nationwide for $13.99AUD.
The product/s mentioned in this post were provided by PR for consideration. Beauty Snippets' opinion remains 100% unbiased and honest. Please refer to Beauty Snippets' disclosure/PR policies page for further information.