Archive for the 'Nutrimetics: Lips' Category
20th March, 2012
Packaging
The lip gloss is packaged in a funky white cardboard box. There's pale pink graffiti writing on the background. Ingredients are listed on the side.
The actual lip gloss is a rectangular shaped plastic tube with a sleek reflective silver cap. On one side is a generous sized strip meant to be a mirror.
True to its name, "lightning", inside the cap has an LED light  that lights up as soon as you open it. It's the same concept as the Sportgirl Lighten Up lip gloss (reviewed here)
It has a nice sized doe foot applicator perfect for applying gloss on the go!
Product
Blush Rose is a light baby pink with pink and gold microshimmer.
It's not a thick lip gloss but you can feel that it's there.
It has a faint fruity smell like berries – yum!
I like the consistency of this lip gloss – it doesn't feel sticky or heavy.
Lasted about 3 hours through eating and drinking.
Ingredients
Purchase
Available exclusively from Nutrimetics online for $29AUD for 6.2ml.
The product/s mentioned in this post were provided by PR for consideration. Beauty Snippets' opinion remains 100% unbiased and honest. Please refer to Beauty Snippets' disclosure/PR policies page for further information.
15th November, 2011
It's that time of the year where we I rush around like a headless chicken scrambling to buy suitable Christmas presents for everyone.
I find that females are the easiest to buy presents for – whether it's for a birthday, Christmas, or any other occasion. We're so easy to please, aren't we ladies? Cosmetics, fragrances, jewellery, shoes, clothes, giftcards, the list goes on!
Female-wise, I usually purchase Christmas presents for my cousin, my sister and my mother.
Nutrimetics has made the task just that bit more easier with some great gift ideas. I was sent selected items from their Christmas guide to review for you all.
For the beach babes
Nutrimetics has a nice beach range perfect for those who love to head to the beach for some Summer fun. But wait – don't skip this section just yet. From what I gather, it's more of a 'inspired' by the beach range than a specific beach range. Take the Beach Bath Minerals ($25 for 255g) which is great to use after a long tiring day. Just sprinkle the bath salts into warm water and relax while it does its thing to soothe your tired muscles and relieve stress. In my opinion, you can use this after a long day of work and/or play (at the beach)!
Had a bit too much fun in the sun? The Beach Soothing Body Moisturiser ($25 for 200ml) is a thick cream moisturiser enriched with sea kelp aimed at soothing, nourishing and hydrating your skin.
For the beauty conscious
Nutrimetics has released a limited edition nc Birds of Paradise colour collection inspired by the vibrant colours of the colourful Birds of Paradise. I was sent the nc Birds of Paradise Lip Gloss ($25 for 3.5ml) from the collection. As you all know, I am not a fan of lip glosses. I've reviewed a handful of glosses simply because I despise that sticky feeling on my lips and the fact that my hair gets caught onto my lips lol.
Firstly, the packaging is gorgeous! I love how bright and colourful it is. The lip gloss is interesting. I have yet come across one where they have three different shades in the tub and then when you pull the applicator, they all blend together for one shade! Speaking of the applicator, it is a brush applicator.
The three shades in the gloss are – red-pink base with multicoloured shimmer, milk pink with subtle shimmer and a beige pink with no shimmer.
This gloss is as sticky as they come. The brush grabs too much product on my lips but it's easily spreadable? I just blend it. The stickiness of the gloss may have added to its long-wearing ability because four hours later, gloss is still on, albeit a tad faded.
Fill those stockings
We don't do the traditional Christmas with the stockings by the fireplace in my family but the Youth Renewal Lipstick ($25 for 2.5g) are great for secret santa presents and 'filler' presents. With eight shades available, you are bound to find one for her!
See my review on their Youth Renewal lipstick in Shebang here (along with other fab ideas for Christmas presents!)
The product/s mentioned in this post were provided by PR for consideration. Beauty Snippets' opinion remains 100% unbiased and honest. Please refer to Beauty Snippets' disclosure/PR policies page for further information.
27th October, 2011
Did you know that two thirds (64%) of Aussie women admit that they only change their 'looks' every few years – or even less! I know I stick to a 'fail-safe' look. Do you?
A couple of days ago, I was sent a wonderful Halloween package from Nutrimetics and included was a page full of Halloween beuaty tips. I'm not a fan of Halloween looks mainly because I'm not creative lol.
nc Illusion colour palatte (RRP: $39AUD, available til January 2012)
This palette has 4 baked eyeshadows. There's the blue with silver (1), bronze (2), teal/green with gold (3) and an off-white shade (4).
The eyeshadows are nicely pigmented (that's with no primer and like 2 swipes!) and smooth. They do have a scent though – like a crayon-y plastic smell.
Nutrimetics tips for the 'purrr-fect cat's eyes'?
Step 1: Using a light shade of eye shadow such as (4), highlight under the brow, and sweep across the lid.

Step 2: With an angled shadow brush, sweep a warmer colour, like (2), across the crease, working from the inside of the eye, out to the edge. Use the shape of your eyebrow to guide where the shadow line finishes.

Step 3: Define the lash line using a liquid liner (check out Nutrimetics' offering down below) flicking the brush outwards at the outer corner of your eye. For a dramatic look, thicken the line and extend the length as required.

The result? A cut crease!

For a more subtle eye (what I opted for!), sweep (4) across the lid, using a conservative amount of colour. Skip step 2 and in step 3, create a more subtle liner by creating a smaller flick at the outer corner of your eye.
nc Liquid Eye Definer in black (RRP $24AUD)
This liquid eyeliner is amazing! I'm a newbie at applying anything that ain't pencil liner to my top lids. The brush is fine enough to do thin lines but also easy enough should you want to do thicker lines. Dries quite fast too so I don't have to keep my eyes shut for a ridiculous amount of time .
The brush head is made from silicone and is flexible thus allowing for precise lining
Take a look at what I did on my first application! Too easy xx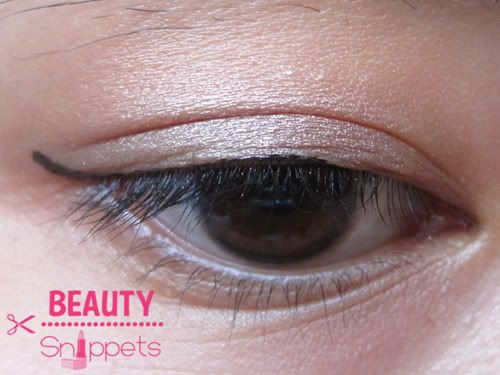 nc Youth Renewal lipstick in Shebang (RRP$25AUD)
Nutrimetics' youth renewal lipsticks contain a hydrating inner core (see below) that has lip plumping ingredients and decrease the appearance of fine lines.
The shade I received – Shebang, is vibrant bright red. It tugged a tiny bit when I applied it but this may be due to the fact that my lips were quite dry.
Maybe it's my nose but I didn't really detect a scent at all. I love red lipsticks because it brightens up my face instantly without the need for the whole 'shebang' of make up! Love love
This my first experience with Nutrimetics and I must say, I am impressed. The products are great – each product is tested for its suitability with certain skintypes and this is why Nutrimetics is one of Australia's leading skincare and cosmetics companies. You can purchase Nutrimetics from their website (here) or contact a consultant
The product/s mentioned in this post were provided by PR for consideration. Beauty Snippets' opinion remains 100% unbiased and honest. Please refer to Beauty Snippets' disclosure/PR policies page for further information.