Archive for the 'Nvey Eco: Eyes' Category
4th May, 2012
Per my post on Part 1 of the Mother's Day Gift Guide, my mum is slowly venturing into eyeshadows. I've had to teach her a few basics, tried to get her to watch YouTube videos and just play!
This next gift idea is perfect for all the lovely mums out there.
Nvey Eco eyeshadow palette 5 Colour Collections come in 6 unique colour combinations to take you from day to night. If your mum is anything like mine and hates clutter, this would be ideal for her! It's also free from parabens, SLS, propylene glycol, GM, petroleum and talc, making it an excellent choice for anyone with dry and sensitive skin.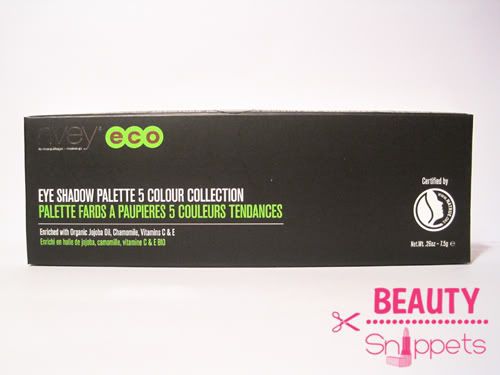 Packaging
It comes in the signature black cardboard packaging with green and white print.
The eyeshadows are housed in a sturdy, black plastic palette that closes with a lil click.
It also comes with two double-ended sponge tip applicators.
Product
I was sent eyeshadow palette #6 which includes:
170 – dark grey with silver shimmer
171 – plum with silver shimmer
168 – peach with gold shimmer
172 – wheat with silver and green shimmer
173 – dark olive-khaki with gold shimmer
Below is a swatch of all the shades. One swipe, no primer.
170 was a bit dry and chalky. Apart from 170, the other 4 shades swatched easily and felt really smooth. My favourite shades are 168 and 172.
The shades are quite subtle. They blend nicely together and very simple to create a day or night look. Wear time with UDPP underneath was about 5 hours before there was slight fading. No fallout detected.
The only gripe I have about the palettes would have to be the fact that they're not attached to the palette very well. I tilted the palette upside down and 3 out of the 5 pans fell out!
Edit – This palette was a dud! I received another palette and the pans in the other palette did not budge at all!
Ingredients
Purchase
RRP$75.95AUD for 7.5g. Each eyeshadow pan weighs about 1.5g making it about $15.19AUD per pan which is alright pricing considering a MAC eyeshadow costs a bit more than double that.
Available online on Nvey Eco's website here.
The product/s mentioned in this post were provided by PR for consideration. Beauty Snippets' opinion remains 100% unbiased and honest. Please refer to Beauty Snippets' disclosure/PR policies page for further information.