Archive for the 'Nvey Eco: Lips' Category
6th February, 2012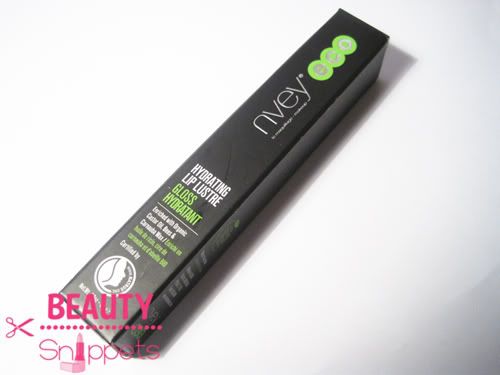 NVEY ECO Lip Lustre is a nourishing, lustrous, and rich lip lacquer enhanced by organic elements to create smooth and subtle lips. The luxurious colour glides on leaving a refreshing feel, and is enhanced by the organic beeswax providing the skin with energy, protection and harmony, plus a glossy, shiny, slightly shimmery texture. NVEY ECO Lip Lustre is a high shine, moisturizing non-sticky formula. Use it to highlight natural lip color or lipstick. For high intensity color, apply a second coat.
Personally, Mr. X and I are not big on celebrating Valentine's Day. We have 'date night' every weekend, see each other way too often and buy ourselves and each other presents whenever we feel like it lol.
But for those we love celebrating Valentine's Day and are looking for a great gift for their Valentine or even for yourself – keep reading for a product that'll make your lips kissable!
Packaging
Nvey Eco Hydrating Lip Lustre in Seduce Me ($29.95AUD/8g) comes packaged in a slick black cardboard box.
The lip lustre itself is clear so you can see what shade it is. The top of the wand is a black rubber reminiscent of Becca's and NARS' packaging. I'm sure you'll all know the issue with this rubber packaging – it tends to attract all sorts of shimmers and powders!
It has a doe foot applicator for easy application. I love doe foot applicators as I find that when I apply with a brush applicator, colours can tend to look streaky.
Product
In the tube, Seduce Me looks like a dark shimmery rose. When I first saw it, it looked like a shade I would never wear!
However, when you actually apply it, it's more sheer than opaque. When applied, it's more of a pale rose than dark.
I love that this isn't sticky, it doesn't drip and keeps my lips hydrated. The finish is more like a balm than gloss.
Wear time is average for a lip gloss/balm for me – about 2 hours including eating snacking and drinking.
Ingredients
Purchase
Online here – Nvey Eco Hydrating Lip Lustre in Seduce Me ($29.95AUD/8g)
The product/s mentioned in this post were provided by PR for consideration. Beauty Snippets' opinion remains 100% unbiased and honest. Please refer to Beauty Snippets' disclosure/PR policies page for further information.