Archive for the 'Physicians Formula: Cheeks' Category
11th August, 2012
First, a word of warning – since this is a review on the range, it's quite long as I'm reviewing three powder products from the range. Sorry!
Dear Australian beauty market, please please please, can we have a beauty launch the same time as other countries? Love, Beauty Snippets.
Who remembers reading about these cute lil heart powders from Physicians Formula and their Happy Booster range on US beauty blogs last year? \o <-me!
Australia finally launched these and today I will be reviewing the bronzer, blush and translucent powder. Please stay tuned for the mascara and eyeliner review and following that will be a FOTD featuring these products.
Packaging
All three are packaged pretty much the same.
They are contained in a cardboard box individually, with all sides of the box glued down…
…even the blush itself…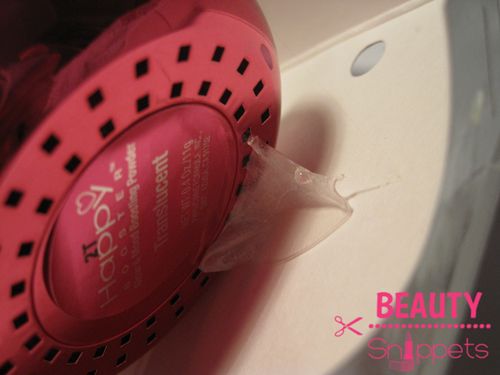 Not quite sure of the rationale behind this because that glue was a bit annoying and difficult to get off.
As you can see, the translucent powder and bronzer (both 11g/0.4oz) are larger than the blush (7g/0.24oz).
They come in nice metallic pink packaging with a flip top lid and the top layer holding the blush/powder/bronzer, lifts up to reveal a little mirror and brush.
I can't comment on the included brushes as I never use them. I either chuck them or leave them in their original packaging.
Product
Infused with our Happy Boost Blend, featuring Happy Skin and Euphoryl, natural plant extracts which have been shown to promote a feeling of happiness by mimicking the effect of Endorphins and helping protect the skin from environmental stress.

The sweet scent of Violet provides a feeling of joy each time you apply.
Happy Booster Bronzer ($21.95AUD/11g)

The hearts in this compact ranges in shade from a sandy light brown to dark chocolate brown with a pink heart. I'm not sure why there is a pink heart in a bronzer…
Anyways, it does have a slight shimmery finish which I don't mind for a bronzer. I am quite simple when it comes to bronzers – as long as it ain't orange, I'm happy so this works as a nice bronzer for me.
Happy Booster Blush in Rose ($29.95AUD/7g)
With hearts ranging from light beige to pale pink to bright pink, this blush is perfect for that 'rosy' cheeks look. Like the 'I just came in from the cold' look. Love love love! Lasts about 5 hours before I noticed any fading.
There's some slight gold shimmer throughout which works to give your cheeks that 'glow'. Powder is finely milled making it very easy to work with and apply.
Happy Booster Powder in Translucent ($21.95AUD/11g)

Hearts ranging from pale beige to light brown with a single pink heart.
I'm not one who normally uses powders. I only had one other powder in my stash and this makes a nice addition. I don't know…for a face powder, wouldn't you want one that's matte? The shimmer particles are quite fine though so it works nicely to set my tinted moisturiser or foundation and it also works as a highlighter. Yay for multi-use products.
Does it work? I know nothing about the science behind this mood boosting business. What I do know is that the cute packaging and hearts work well to make me smile each and everytime I grab the compact as it's so darn cute. As mentioned in their spiel, the powders contain mood boosting scents of fresh floral. Normally, I hate scented floral products but the scent in these don't linger at all and are not overpowering and/or overbearing. It's just a nice soft and light scent.
Here are swatches of all three –
Swatches are 1 swipe per powder.
Ingredients
Purchase
This cute range by Physicians Formula is available at selected Priceline stores nationally.
The product/s mentioned in this post were provided by PR for consideration. Beauty Snippets' opinion remains 100% unbiased and honest. Please refer to Beauty Snippets' disclosure/PR policies page for further information.