Archive for the 'Project 100 Pan' Category
22nd August, 2013
Since my last update, I have used up a few more items. Yay, go me!
013 Silky Techno Basic Repair Intensive Mask
I won this last year from Norlin and only managed to use it recently. I am not too fussed when it comes to hair masks so long as my hair is left feeling soft, manageable and silk. This ticked all the boxes. Only downside is the price. I only got to use it about 4? times before I ran out. I like my hair masks in massive sizes. Probably won't repurchase..
014 Heads & Shoulders Ice Fresh shampoo
I like the scent – soo minty and refreshing. It was lying in my stash of hair products so I just took it out and used it. Didn't do miraculous things to my hair but it didn't ruin my hair either so .. I probably won't repurchase as I already have a range of shampoo and conditioners that I prefer.
015 Garnier Pure 3-in-1 Wash, Scrub and Mask
I remember purchasing this when I was spending a night in Coffs Harbour with my boyfriend for work. I had forgotten to pack my skincare stuff so I grabbed this on a whim. I use it in the shower as a mask whilst I shave, apply hair mask etc Then I wash it off in circular motions. There are small exfoliating granules for it to work as a scrub. It smells sorta minty and is quite nice when applied. Very relaxing. Would definitely repurchase this as it was a nice multi-tasker!
016 L'Oreal Elvive Re-Nutrition Deep Nourishing Hair Mask
The royal jelly scent is very strong which I didn't like because when using it in the shower, where humidity is high, the scent is intensified and it was suffocating! Plus I didn't like the fact that it was in a tub. Water kept coming in! Such a shame because it really gave my hair a good serving of moisture. My hair, after every use, always felt sooo soft. Not repurchasing as I cannot stand the scent
 017 Schick Silk Hydro Silk refill*
Love love this razor. I love that it doesn't need additional shaving cream to work. The refill lasts quite  a while too – at least 2 months for me! Definite repurchase for me.
018 and 019 Pantene Pro-V 3 Minute Miracle treatments
Great little treatment for your hair. Makes mine soft and frizz-free! Shame they're so small. I get 2 uses out of each tube for my long hair.
020 Nutrimetics Deep Moisture Body Wash* with Sea Kelp
This was pretty average as a body wash. Wasn't anything 'amazing'.

Minis/samples
Kanebo 'Refreshing' foaming body exfoliator
This was an extra from a swap a while back. Don't like it. Didn't foam up enough for my liking and smells too creamy, almost milky. Bleh.
Project 100 Pan tally:
020 full size products
005 minis/samples

8th May, 2013
After my frivolous spending in Malaysia, Singapore and Hawaii, I thought "What better time than to start a Project 100 Pan?" Add to this, I recently saw that Anissa over at Beautifully Glossy had finished her Project 100 Pan! What a champ. It shows me that it could definitely be done so here I am! Use up 100 products? I can do it!
So I've set myself some 'rules'
– No new beauty products unless they are basic essentials
– Every 5 samples/minis finished = 1 full size product
I've been "holding on" to some empties with the thought that I may or may not participate in this Project X Pan so here is what I have so far….
So the first batch (of rubbish I remember to keep), we have:
001 Coles cotton balls
002 Face of Australia Purifying Cleansing Wipes*
These were not my favourite face wipes to use. It wasn't 'wet' enough for my liking and the top sticker kept coming off which meant my face wipes dried out a lot quicker.
003 Simple Cleansing Facial Wipes
004 Nivea Daily Essentials Refreshing Face Wipes
005 Nivea Daily Essentials Gentle Exfoliating Scrub
This is one of my favourite facial exfoliators. I've been using this for years!
006 Australis High School Sweetheart lipstick
This was a limited edition product a while back. Great MLBB shade for everyday and the packaging is very cute. Shame I can't find these anymore.
007 Chapstick
Definite HG lip balm.
008 KMS Moist Repair*
Love love love! Made my hair feel silky soft. However I hated the fact that the 'lid' is on the bottom and needs to be twisted up to reveal a little opening for the product. Difficult to use and as you can see, gets gunky in the shower.
009 NAK Treat With Care Conditioning Treatment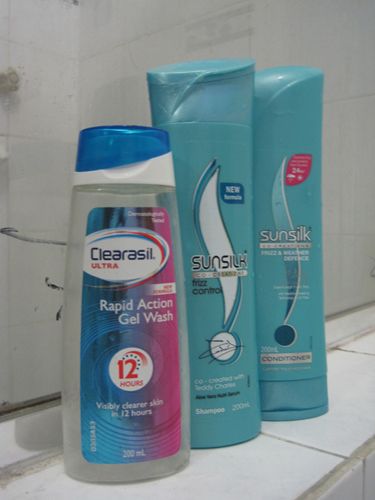 010 Clearasil Rapid Action Gel Wash*
011 Sunsilk Frizz Control shampoo
012 Sunsilk Frizz Control conditioner
These worked well at ensuring my hair was not as much of a frizzball after a blowdry as usual. Smells yum too.

Minis/samples count – 4
Guinot Luxurious Body Firming Cream*
Urban Decay Primer Potion
Chanel Exceptionnel de Chanel mascara
Imperial Leather Foamburst*
Omg this is the most fun thing ever. It comes out as a gel and when it comes into contact with water, it foams up.
So there you have it. My small start to Project 100 Pan. I will endeavour to update you as regularly as possible..

Project 100 Pan tally:
012 full size products
004 minis/samples