Archive for the 'Sigma' Category
1st March, 2011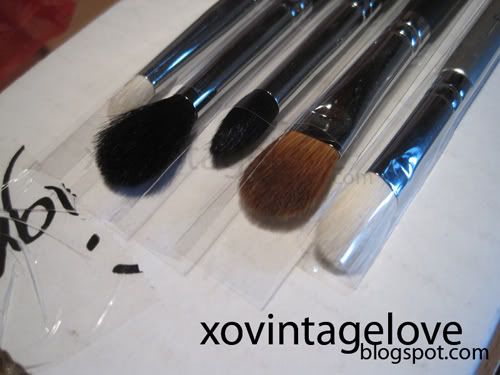 I couldn't resist Sigma any longer! Seeing as I'm on a no (or low) buy thanks to my project 10 pan, this haul wasn't paid with my own money
It was my sister's late Christmas present to me.
Prior to this order, I owned 2 Sigma brushes – the ss219 (e30 pencil brush) and the ss188 (f55 small duo fibre). I acquired these through swaps and blog sales etc and I was surprised at their quality!
I took advantage of their 10% off for Valentine's Day and placed an order for:
e45 small tapered blending (ss226)
e40 tapered blending (ss224)
e60 large shader brush (ss252)
e30 pencil brush – yes, another one. I love this!
Shipping to Australia for the 4 brushes cost me $10.76 which I thought was reasonable. Shipping does depend on how many items you purchase though
I placed an order on the 15th, received confirmation a couple of minutes later and a "your order has shipped" email on the 17th. The Sigma brushes arrived on my door step on Monday (28th) afternoon. So expect them to take at least a week to arrive.
They arrived in a large box and the brushes were housed in a cute red drawstring bag.
Also included with the brushes I ordered was a freebie – a travel size e25 (ss217) – for ordering over $30!