Archive for the 'Subscription Boxes' Category
4th April, 2014
This month's Violet Box didn't arrive until towards the end of March which is probably the latest I've ever received a Violet Box.
Let's get straight into it –
Love Those Lashes Silk Strip Lashes in The Jade $14.95
I have only started getting into false lashes and these will make a welcome addition to my collection. They look great to wear for a night out. I have not had the chance to try these yet so cannot comment on them much. It does come with its own adhesive so I will see whether the adhesive glue works the same or better than the Ardell ones. My case was actually broken when the Violet Box arrived which is a shame.
Starlooks Gem Pencil in Amethyst $19.50
Usually comes in 6 different shades, the options for this month's Violet Box was between Topaz or Amethyst. Amethyst is a metallic lilac shade. It glides on very easy and looks great. I cannot comment on wear time etc because I haven't had the chance to wear it out either…
Sinful Colors Nail Polish in Gogo Girl $4.95
I have already received this shade in September's Violet Box..it makes for a nice red and goes on easy.
Acorelle Skincare Night Cream ~$1.98/2ml ($49.50/50ml)
In January's Violet Box, subscribers received a sample of Acorelle's fragrances and this month, it's a selection from their skincare range. I received the night cream which has a very strong herbal scent.
Mireness Velvet Lip Moisture Shine in 47 Sweet Tart ~$13.32/1.5g ($39.95/4.5g)
This is a mini version of what Mirenesse claims is an "award winning" lip product. This lip gloss is a lip plumper and the shade I received is slightly coral/peachy shade with gold microshimmer and smells like chocolate. The applicator is a a flattened wand and swatched really smoothly and was very pigmented.
This month's box was slightly underwhelming. The only item that really piqued my interest were the lashes. Sure, the value of the items far exceeded the value of the monthly subscription fee but for some reason, I just didn't feel 'wow'-d!
For more information on Violet Box, check out their website here
Subscription boxes are available from $22.95/month.
The product/s mentioned in this post were provided by PR for consideration. Beauty Snippets' opinion remains 100% unbiased and honest. Please refer to Beauty Snippets' disclosure/PR policies page for further information.
14th November, 2013
There's a new kid on the subscription box block! Well, not really but Wantable is a new company which offers different types of subscription boxes – accessories, intimates, makeup or limited edition holiday boxes. Wantable is based in the USA but they do ship to Australia and Canada.
The biggest drawcard for me was how detailed the quiz is to ensure they send you products that you would absolutely love and note dislike! Also, you are guaranteed to receive 4-6 premium full-sized makeup products if you opt for the makeup subscription box – and being based overseas, you will be exposed to a broader range of new makeup brands.
I opted for the accessories box because I have just way too many makeup samples though I was very tempted. The quiz was so detailed with questions like my ring size, what my favourite length for necklaces and earrings are, styles etc
A peek at my preferences…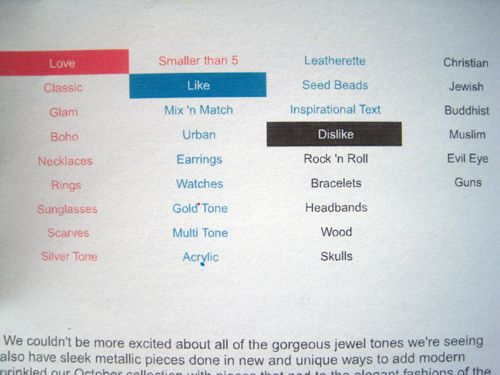 And what I received in a well-packaged box, two weeks after receiving confirmation emails
Kellie Earrings $28USD (The Kellie earrings feature sparkling rhinestones mixed with viridian, onyx and tangerine stones in a fashion forward fan shape. Style tip: Pair with a sleek updo, smoky eye, and nude lip to amp up the wow factor!)
Holleen Necklace $34USD (The Holleen necklace has stunning white and black deco embellishment! Style tip: Wear this necklace with a basic tee tucked into a skirt for a simple yet dressy look!)
Amelia Earrings $24USD (We've seen chevron all over lately, and we're in love with it! The Amelia earrings add a little sparkle to this trend in these small studs. Style tip: Add some touches of neon to your outfit to pair these with another popular trend! A bright pink lip and neon nails are a great way to play with pops of colour without going overboard.)
The quality of the pieces are on par with maybe Forever New jewellery; a bit higher up compared with Diva and Lovisa. I'm not sure where the prices are taken from as there are no actual brands on the pieces.
I'm actually contemplating subscribing to this box because the price is quite reasonable especially with the quality of the products and I love that they include a style tip (helps styleless me know how to wear them!!). It works out to be $15 for each piece which is a bargain especially for three personalised pieces. Wantable included pieces from my love and like list and nothing from my dislike list.
Wantable subscription boxes are $36USD/month or a one-off amount of $40USD + $9USD shipping to Australia. Subscriptions are shipped automatically each month and you can cancel or skip a certain month at any time. ALSO – if you don't love the box you received, you can send back your box for a full refund. If you want to subscribe, I'd really appreciate it if you use my affiliate link – here ! Thanks xx
The product/s mentioned in this post were provided by PR for consideration. Beauty Snippets' opinion remains 100% unbiased and honest. Please refer to Beauty Snippets' disclosure/PR policies page for further information.