Archive for the 'Tender Love + Carry' Category
1st July, 2014
Violet Box's June 2014 box, aka the birthday box, did not arrive in a box per se but in a handy cosmetic case – which I was actually grateful for seeing as I now have 11 Violet Boxes just sitting on a shelf.
Spoiler alert but I loved this month's box!
GHD Straight & Tame Cream $24
A cream aimed at taming frizzy hair – will definitely be trialling this ASAp. I like to blow dry my hair to get it dried much quicker. Some days, it's nice and silky. Other days, it's just a big ol' ball of frizz.
Bioderma Sebium Pore Refiner ~$15.47 ($30.95/30ml)
Silicon-based primer targetting combination to oily skin (sounds like mine!). I have a stack of Bioderma samples now but not complaining as they always come in handy when travelling.
Chella Brow Pencil $21.50
This was actually missing so no review sorry!
Strange Beautiful Nail Polish $22
Two shades in one – a nice orange-red and a pink-toned nude. Both shades are wearable and I think the colours are good together – one for when you're feeling like a bright and the other for when you're feeling more demure.
Appelles Blackseed Shampoo and Tamanu Conditioner ~$5.39 each ($18.95/150ml; $44.95/500ml)
Firstly, I think it's a bit strange that it's not a matching set. I like my shampoos and conditioners to match. Cute packaging and love that these deluxe samples have at least a week's worth of hair washing in them!
Caddy's Cosmetic Pouch $26
Ok. This makeup bag is probably one of the best ones I've come across. It's small enough not to be bulky and yet has so many different pouches and compartments. There's even a section for 3 brushes! Definitely replacing my current makeup bag with this one.
Firstly, happy 1st birthday, Violet Box. It has been an amazing year with monthly boxes that are of outstanding value and products. I am astonished at how Violet Box continually sends out boxes with new brands and products. In the last 12 months, I have been introduced to at least one new brand each month!
This birthday "box" was no different. Including over $100 worth of products, with a good mix of skincare, haircare, nail polish is an amazing feat.
Here's to another great year, Violet Box!
For more information on Violet Box, check out their website here
Subscription boxes are available from $22.95/month.
The product/s mentioned in this post were provided by PR for consideration. Beauty Snippets' opinion remains 100% unbiased and honest. Please refer to Beauty Snippets' disclosure/PR policies page for further information.
25th September, 2012
As soon as Mr. X and I booked our flights for January, my mind went into overdrive. The last time I went overseas was when I was 13 years old. Back then, I didn't have a skincare regime and only wore eyeliner and lip balm. My parents took care of everything for me. Now, I have a set skincare routine and love make up! How was I going to pack all I needed into a compact travel bag and most importantly, what can I bring on my carry-on?
These beautifully printed Tender Love + Carry cases took care of one aspect for me – what bags should I bring to maximise space?
About Tender Love + Carry
TL+C's vast range offers a cosmetic bag or toiletry kit worthy of sitting on any vanity, flying to any tropical destination or taking anywhere and everywhere in your handbag! Designed to turn that necessary & sometimes boring everyday object into an item that has a sense of fun & style. TL+C decided that cosmetic bags needed a touch of LOVE added.
The bags I received are from the Tropicana range but they do offer a myriad of beautiful prints – check out their site here.
There are three bags available in the Tropicana range and to test how much these bags could hold, I went into my stash and filled it as though I was actually leaving tomorrow.
– Multi Case ($12.95)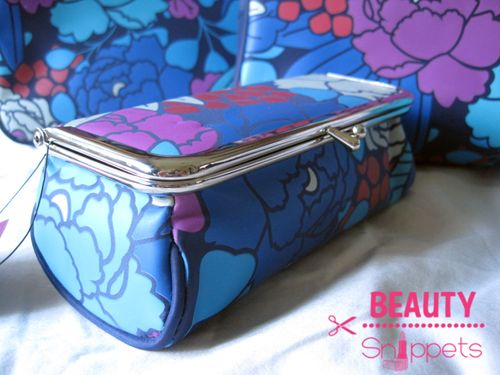 This is the type of case I would use to carry my cosmetics everyday. Surprisingly, it fits quite a lot. The tag says to sponge clean only and I think is best. Quick and easy to clean, and stores a truckload of stuff.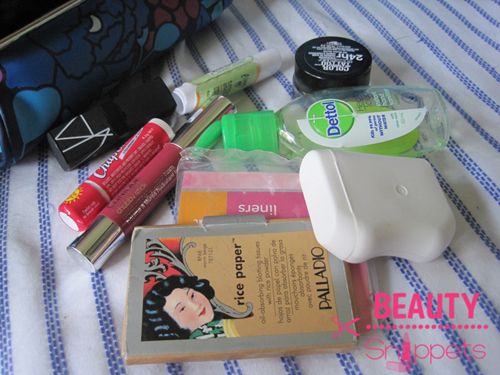 It also contains a mirror on the lid and whilst it's not as big as a compact mirror, it's enough for touch ups and what not. Plus this means you save space by not carrying a large compact mirror around. Just for giggles, I filled it with MAC lipsticks only and it held 16 lipsticks.
– Cosmetic Clutch ($18.95)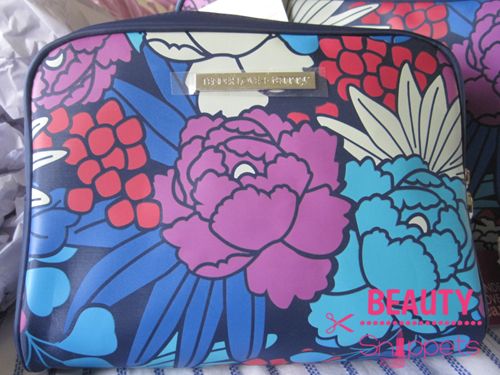 The clutch is what I would use for a weekend away. It's not too big that I'll look like a princess but it's not too small that it won't fit all your essentials.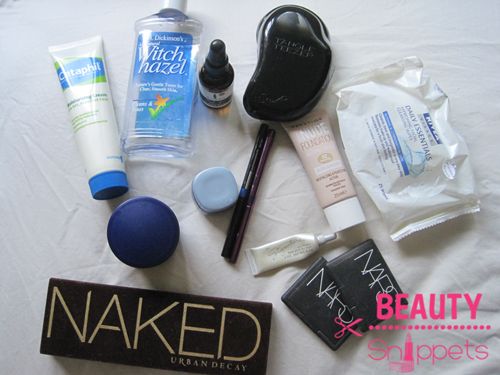 In the pictures above, these are what I would probably be bringing to me if I went away for a few days. I just realised I forgot a skin cleanser but that's alright – I usually make use of sample satchets and bottles so I'd squeeze a sample cleanser in there too. Brushes travel in their own brush roll. Oh and a zip lock bag of cotton buds and some cotton makeup pads.
– Hanging Wash Bag ($42.95)
After a quick look at possible hotels, I have concluded that unless we are staying at a 5 star hotel, the vanity will be TINY. Solution? This amazing bag. This bath bag actually opens up and has two large see-through compartments and a smaller case at the top with a hook attached for hanging.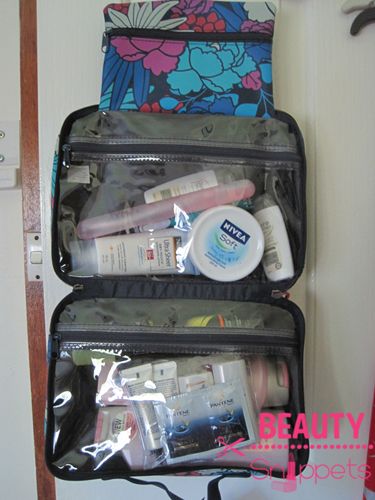 I love that it has a hanging hook cos it means I can keep my toiletries off the benches and floors. It fits a lot. I just did a quick grab of the products I think I will be bringing and there's still space. I didn't even fill up that zipped section! So much space.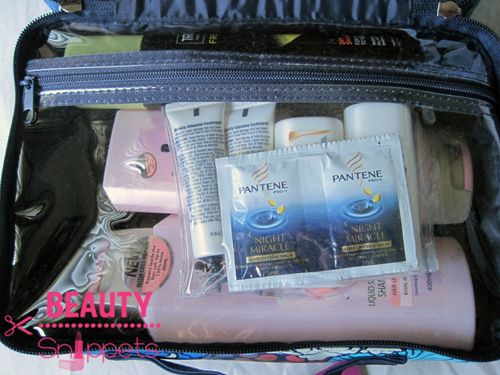 The outer material of all the bags are 100% nylon and in inner is 100% polyester. The bags feel sturdy so you don't have to worry about them breaking on you in the middle of a trip.
Tender Love + Carry also make bags for men as well so be sure to check out their range on the website.
David Jones stores carry Tender Love + Carry in Australia. Check here for stockists.
The product/s mentioned in this post were provided by PR for consideration. Beauty Snippets' opinion remains 100% unbiased and honest. Please refer to Beauty Snippets' disclosure/PR policies page for further information.