Archive for the 'The Body Shop: Body' Category
10th August, 2016
Yay, more empties! I moved my whole beauty stash down with me to Melbourne and made it a goal to come back with half of it. Going through these empties will definitely help with that goal!
Without further ado…
Batiste Dry Shampoo – I already have a few back ups ready to go. This is my HG dry shampoo. It is effective and nothing else compares! I've recommended this to anyone who will listen.
The Body Shop Fuji Green Tea body butter (review)* – I was using this on and off over the last year (lol) but really amped it up during this Winter as my skin got ridiculously dry.
Bath and Body Works Sweet Pea Anti-Bacterial hand gel – one of my favourites and always gets comments whenever I use it in the office. I stocked up on a few of these when I was last in the States and stocked up some more when I passed the Sydney domestic airport store! The scent reminds me of Gobstoppers – very sweet and floral.
Crabtree & Evelyn Somerset Meadow hand cream – a fruity-floral scent infused with shea butter and macadamia nut oil to keep my hands moisturised without being greasy. I love Crabtree & Evelyn for hand creams because they're absorbed quickly, keeps my hands soft and have a wide range of scents.
Jo Malone English Pear and Freesia mini candle* – this was the perfect Autumn scent to burn. It's a warming, hearty mix of pear, white freesias, amber and patchouli. Sure, the price tag makes you gawk a little but it burns flawlessly and the fills the room up with a lovely scent. The packaging is very aesthetically please as well – clean and simple that would not look out of place no matter where you display it.
TN Dickinson's With Hazel – another HG for my oily skin. I use this as a toner after cleansing to control the oil production on my t-zone. Works well for me for years and when I forget to buy a back up, I can definitely notice a difference in my skin.
18th December, 2012
This holiday season, The Body Shop has released a limited edition make-up collection that is bound to see you through the silly festive season!
1) The Sparkler $40.95AUD – Shades: Gold, Dazzling Copper
How glamourous does this look? I love old school glam packaging. The Sparkler is filled with fine shimmer in either gold or copper and when you squeeze the atomiser, you get a very fine mist of shimmer. Perfect for Christmas parties and New Years Eve parties!
The one pictured is Dazzling Copper. This is a warm rosy gold shade with very fine pink, silver and yellow shimmer. It has a light fresh scent.
As you can see from the swatch below, which was 2 sprays, it gives off the right amount of shimmer for you to look glowing and not like a disco ball.
2) 4-Step Smoky Eyes Palette $44.95AUD – Shades: Copper, Moonstone
This palette includes 4 powder eyeshadows and 2 brushes for you to create the perfect smoky eye look. It also comes with step-by-step instructions to create the look.
The palette I received, Copper, contains 3 varying shades of … well, Copper. Starting from the top left hand corner:
1. Off-white with yellow shimmer. Very similar to NARS Albatross.
2. Peachy orange
3. Golden light brown
4. Dark chocolate brown
Not only do you get 4 eyeshadows in this palette but you also get a full-size mirror and 2 mini brushes – a flat shader brush and a slanted angle brush. This is perfect for those who have a party to attend after work as you can take your look from work-appropriate to party-girl with shade number 4 – use it to darken the outer v and voila.
These eyeshadows are not by any means powdery. In the pan, they feel solid and creamy but they are definitely a powder. They're very pigmented and applied with no fallout! Without a primer, these lasted about 4 hours before I noticed any creasing on my oily lids. However with a primer, they lasted around the 6 hours mark before I removed my makeup.
3) Colourglide Shine $24.95AUD – Shades: Ruby Sparkle, Rare Coral
To finish off your holiday look is the Colourglide Shine. I received the shade Ruby Sparkle which is a shimmery berry red shade with gold shimmer. The lipstick is incredibly moisturising and has a dewy shine finish. It's sheer but this can be built on to create a deeper red shade.
I'm not sure if all the Colourglide Shines have the same scent but Ruby Sparkle has a light and sweet fruity scent. It does linger but not to the point where that's all you can smell. Just once in a while, you'll get a whiff of it.
Its weartime is around 4 hours with light drinks. It leaves a soft red stain.
Below is a picture of the abovementioned eyeshadow palette and lipstick swatched:
4) Slanted kabuki brush $39.95AUD
If you're a long time reader of Beauty Snippets, you will know that I rarely (if ever…) review brushes. I am not articulate enough to review and describe brushes apart from distinguishing whether it is soft or not. This slanted kabuki brush is made from synthetic hairs and is very soft on the skin. I've reached for this in recent days to use with bronzers and contouring powders. It works well for this purpose.
The Body Shop products can be purchased at The Body Shop stores nationwide and online at www.thebodyshop.com.au
The product/s mentioned in this post were provided by PR for consideration. Beauty Snippets' opinion remains 100% unbiased and honest. Please refer to Beauty Snippets' disclosure/PR policies page for further information.
10th December, 2012
Summer is coming and Beauty Snippets has compiled a Summer Beauty Guide to make the transition from stockings and pants to shorts and skirts easy.

This is part two of the Summer Beauty Guide – all about exfoliation.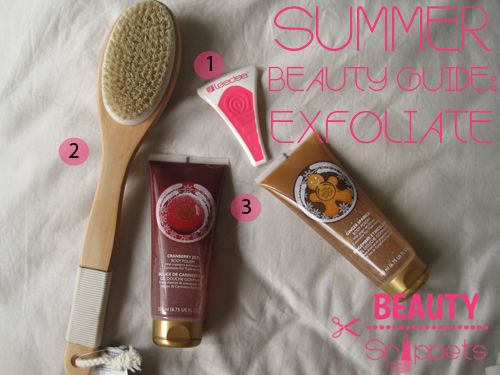 Before you start shaving and tanning, you need to prepare your skin. Here are some fab tools for exfoliating your way to smoother, sexier skin!
1. Le Edge Exfoliating Tool ($39.95AUD, for stockists visit their website le-edge.com.au)
This innovative exfoliating handheld device works to remove the build up of dead skin and dirt without you having to continuously and abrasively scrubbing your skin. It has a stainless steel edge and when held at a 45 degree angle and moving against the direction of hair growth, it gently glides over your skin whilst exfoliating.
Can you believe it does all that without the need for mitts, loofahs or scrubbing creams and gels?
This is ideal especially when travelling as it's so lightweight and consolidates a few showertime products into one.
2. Manicare Cellulite Bristle Brush ($14.95AUD, available at Priceline, Target, K-Mart, Big W and leading pharmacies)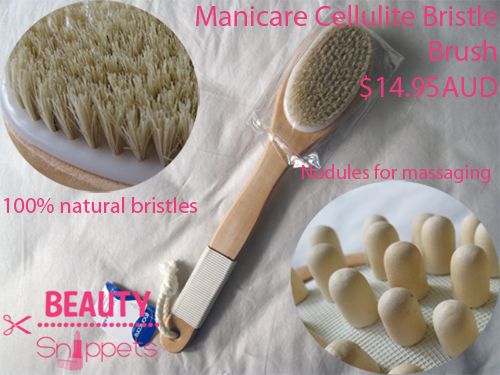 Now this may not be an 'official' exfoliating tool but it is sorta the same thing. This cellulite bristle brush by Manicare is great for dry body brushing which is one of way minimising cellulite. Dry body brushing is also a quick way to remove any dead, dry and/or dull skin. This Cellulite Bristle Brush comes with two sides – on one side, you have 100% natural bristles and on the other, nodules which are perfect for some massaging!
The bristles are not too harsh or scratchy on your skin – which is important in a dry body brushing tool.
3. The Body Shop Ginger and Cranberry body polish ($20.95AUD/200ml, available at The Body Shop stores nationally)
If you still love body exfoliators, look no further than The Body Shop. They have a wide range of body polishes in various scents. These two are from their limited edition Christmas range.
These body polishes foam up really well, and they are gentle enough to use everyday!
The body polishes smell amazing. I am not a huge fan of ginger. Absolutely hate it. But the scent in this Ginger Sparkle body polish is really nice. I can't quite put my finger on the exact scent but it sorta smells like sweet licorice! As for the Cranberry Joy body polish, it has a sweet berry scent. So lovely. Such a shame that the scent doesn't last long on your skin.
The product/s mentioned in this post were provided by PR for consideration. Beauty Snippets' opinion remains 100% unbiased and honest. Please refer to Beauty Snippets' disclosure/PR policies page for further information.