Archive for the 'The Body Shop: Eyes' Category
19th December, 2012
Here is a quick look that I put together using the Smoky Copper palette and Ruby Sparkle colourglide shine (reviewed here). The other makeup on my face is the eyeliner which is Physicians Formula eyeliner in the brown from the brown eyes trio (reviewed here) and MAC eyebrow shader.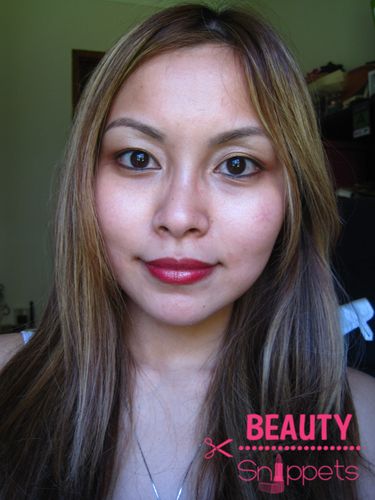 I used the light, off white shade to highlight, the peachy orange all over the lid and the gold light brown in the crease. I didn't use the dark chocolate brown shade to keep this look daytime friendly.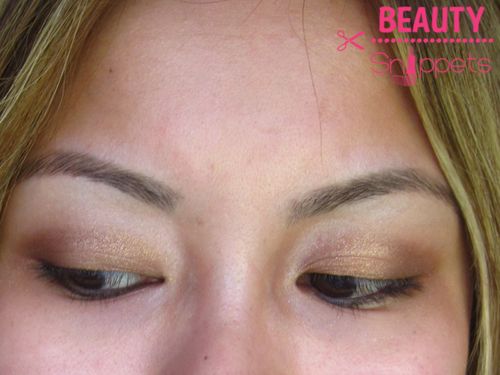 18th December, 2012
This holiday season, The Body Shop has released a limited edition make-up collection that is bound to see you through the silly festive season!
1) The Sparkler $40.95AUD – Shades: Gold, Dazzling Copper
How glamourous does this look? I love old school glam packaging. The Sparkler is filled with fine shimmer in either gold or copper and when you squeeze the atomiser, you get a very fine mist of shimmer. Perfect for Christmas parties and New Years Eve parties!
The one pictured is Dazzling Copper. This is a warm rosy gold shade with very fine pink, silver and yellow shimmer. It has a light fresh scent.
As you can see from the swatch below, which was 2 sprays, it gives off the right amount of shimmer for you to look glowing and not like a disco ball.
2) 4-Step Smoky Eyes Palette $44.95AUD – Shades: Copper, Moonstone
This palette includes 4 powder eyeshadows and 2 brushes for you to create the perfect smoky eye look. It also comes with step-by-step instructions to create the look.
The palette I received, Copper, contains 3 varying shades of … well, Copper. Starting from the top left hand corner:
1. Off-white with yellow shimmer. Very similar to NARS Albatross.
2. Peachy orange
3. Golden light brown
4. Dark chocolate brown
Not only do you get 4 eyeshadows in this palette but you also get a full-size mirror and 2 mini brushes – a flat shader brush and a slanted angle brush. This is perfect for those who have a party to attend after work as you can take your look from work-appropriate to party-girl with shade number 4 – use it to darken the outer v and voila.
These eyeshadows are not by any means powdery. In the pan, they feel solid and creamy but they are definitely a powder. They're very pigmented and applied with no fallout! Without a primer, these lasted about 4 hours before I noticed any creasing on my oily lids. However with a primer, they lasted around the 6 hours mark before I removed my makeup.
3) Colourglide Shine $24.95AUD – Shades: Ruby Sparkle, Rare Coral
To finish off your holiday look is the Colourglide Shine. I received the shade Ruby Sparkle which is a shimmery berry red shade with gold shimmer. The lipstick is incredibly moisturising and has a dewy shine finish. It's sheer but this can be built on to create a deeper red shade.
I'm not sure if all the Colourglide Shines have the same scent but Ruby Sparkle has a light and sweet fruity scent. It does linger but not to the point where that's all you can smell. Just once in a while, you'll get a whiff of it.
Its weartime is around 4 hours with light drinks. It leaves a soft red stain.
Below is a picture of the abovementioned eyeshadow palette and lipstick swatched:
4) Slanted kabuki brush $39.95AUD
If you're a long time reader of Beauty Snippets, you will know that I rarely (if ever…) review brushes. I am not articulate enough to review and describe brushes apart from distinguishing whether it is soft or not. This slanted kabuki brush is made from synthetic hairs and is very soft on the skin. I've reached for this in recent days to use with bronzers and contouring powders. It works well for this purpose.
The Body Shop products can be purchased at The Body Shop stores nationwide and online at www.thebodyshop.com.au
The product/s mentioned in this post were provided by PR for consideration. Beauty Snippets' opinion remains 100% unbiased and honest. Please refer to Beauty Snippets' disclosure/PR policies page for further information.